by Mary F. McBride, Parent Liaison, Global NetGeneration of Youth and HUD STEM Innovation Network
Since 2013, I have dutifully assisted with STEM Education and career initiatives in underserved communities through organizations such as THE HUD STEM Innovation Network led by Mr. Jerryl Bennett and 360 Cradle to Careers, led by Mrs. Faith Linton, even at times working in collaboration with the United States Military Academy. Collectively, these organizations have provided STEM-themed educational and leadership opportunities to hundreds of students across the country, including those in my hometown of Hampton, Virginia. Because of my demonstrated commitments, this Fall I was invited to formally affiliate with The Global NetGeneration of Youth Community (NGY) and serve as a Parent Liaison to their national programs directed by NGY Founder, Dr. Ronnie Lowenstein. As such, I received an invitation to chaperone a NGY Team to attend the 3rd Annual Minorities in Energy Forum on December 1, 2016, sponsored by the architect of these initiatives, The U.S. Department of Energy.
I was thrilled to serve as a Parent Liaison and chaperone my daughters Tenderly, 16 and Taylore, 13. With them serving as NGY STEM Ambassadors of the HUD STEM Innovation Network and as Cyberjournalists, we were able to get up-close and personal with key STEM players from government, the private sector, and academia and learn about successful strategies that prepare our minority youth for the global technology expansion that is upon us, particularly as it relates to the Energy Sector.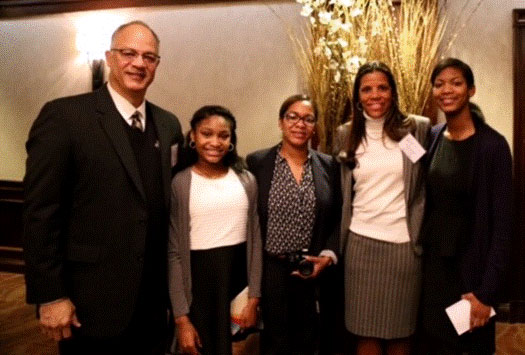 Mr. Jerryl Bennett, Director of the HUD STEM Innovation Network greeted our Hampton Virginia Team: NGY Cyberjournalist Taylore Livingston (13), Me- NGY Parent Liaison Mrs. Mary McBride; Hampton University VP for Research Dr. Michelle Penn-Marshall; & NGY Cyberjournalist Tenderly Diaz.
The entire event was educative and inspiring. It was also quite historic being the last MIE Forum of the Obama administration.
After a Welcome by Mistress of Ceremonies, MIE Ambassador Randa Fahmy, the (Former) Director of DOE's Office of Economic Impact and Diversity, Dr. LaDoris "Dot" Harris delivered Opening Remarks. Dr. Harris highlighted the success of a variety of MIE initiatives that built partnerships between academia, industry, government, and non-profits to address challenges in the areas of energy and economic development, STEM Education, and climate change. She warmly expressed appreciation to the entire MIE stakeholder community for being 'servant leaders fostering equity and diversity.' She closed her remarks with a quote from Martin Luther King Jr., reminding the attendees that a 'life of service is a life well lived.
Next was (Former) U. S. Secretary of Energy Dr. Ernest Moniz, who spoke eloquently about the need for our country to maintain a strong 'energy ecosystem' that will simultaneously grow the economy, enhance security and protect the environment. He urged the audience attendees to remain steadfast in their commitment to diversity and inclusion, and to expand their efforts to engage with women and minority communities as a business imperative, a diversity imperative and moral imperative. He concluded his remarks by challenging all stakeholders to continue to collaborate to ensure America retains leadership as an Innovation Nation.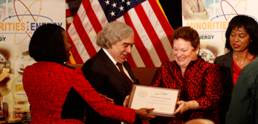 Mrs. Trina Bilal, MIE Project Officer, passes the Award Plaque to a beaming Dr. Ronnie Lowenstein, who is flanked by (Former) Secretary of Energy Dr. Ernest Moniz and (Former) Director of the Office of Economic Impact and Diversity Dr. Dot Harris.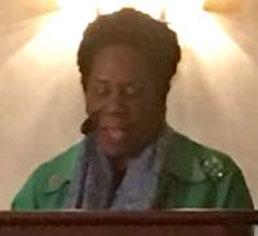 Together Dr. Moniz and Dr. Harris, with the help of MIE Project Officer Mrs. Trina Bilal, introduced the new 2016 MIE Ambassadors and Champions, and saluted the attending Ambassadors. We were so pleased for our sponsor Dr. Ronnie Lowenstein, who was honored with this appointment because of her legacy of equity commitments, especially to opening the STEM Education Pipeline.
The Honorable Sheila Jackson-Lee, who since 1995 has been a congressional representative of city of Houston, ' the energy capital of the world, ' provided a very passionate presentation. She first identified her long-time legislative commitment to the creation of environmentally sound and economically viable energy policy. She then shared some deeply held convictions: that energy is the lifeblood of every economy; that energy independence is integral to our economic and national security; and lastly, that it is imperative to involve small, minority and women-owned, and independent energy companies to achieve that energy independence. She, too, concluded by expressing appreciation to the MIE Community and encouraged everyone 'to continue to champion the cause going forward.'
In addition to enjoying the formal program, I had the honor of 'sitting in' on a variety of the NGY Cyberournalist's interviews. Below are my reflections of four of these exchanges:
Our NGY Cyberjournalist Team appreciated being warmly welcomed by Dr. Andre Sayles, (Former) Deputy Director of the Office of Economic Impact and Diversity at the Annual MIE Forum, now serving as the Acting Director. Upon our return to Hampton, we researched his background and discovered his life was shaped by study of engineering and leadership training at West Point Academy. It appears that throughout his life, whether serving 34 years within the Army, launching a Chapter of National Society of Black Engineers, or working in the private sector or now in DOE, Dr. Sayles has cultivated and applied best practice strategies of diversity and inclusion. What a role model to inspire our youth to aspire to be the next generation of scientists, engineers and innovators inventing the Future!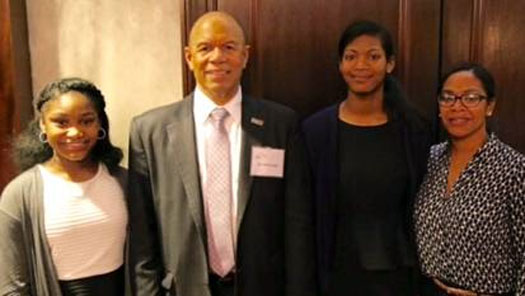 Dr. Andre Sayles greeted our NGY Team, (From Left) Cyberjournalists Taylore Livingston, Tenderly Diaz, and Mrs. Mary McBride, the NGY Liason to NGY and HUD STEM Innovation Network.
NGY Cyberjournalists Tenderly and Taylore were drawn to the beautiful Dr. J'Tia Hart. When they asked her what inspired her passion to pursue her career, this MIE Champion and nuclear engineer who is currently working as a Research Analyst at the DOE, responded: "I had a lot of good mentors who inspired me to pursue my career."
When asked what message Dr. Hart would like to send to youth across America, she passionately responded, 'You can be a Girl of Energy. Just never be afraid of nuclear energy.' She then elaborated noting that 'nuclear energy can be used for bad or for good; it is a part of our daily lives and something that we should not fear.'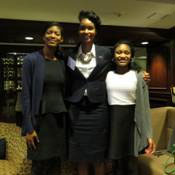 Dr. J' Tia Hart being interviewed by NGY Cyberjournalists Tenderly Diaz (left) and Taylore Livingston (right).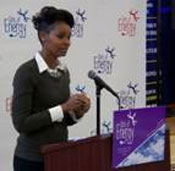 Dr. J'Tia Hart speaking at the launch of Girls of Energy on December 9th 2016 at Excel Academy.
In addition to quizzing MIE Champions from Government, the NGY Cyberjournalists also had a chance to speak with fellow guests. One Forum guest was Dr. Michelle Penn-Marshall, Vice President for Research and Associate Provost from Hampton University representing its President, Dr. William R. Harvey. Dr. Penn-Marshall encouraged the youth to visit Hampton University, which she proudly described as an 'upcomimg research university.' She referenced Hampton University co-hosting a June 2016 State Energy Policy Forum with Virginia Senator Mark Warner, where U.S. Secretary of Energy Dr. Ernest Moniz provided the Keynote Address. In sharing her own career journey and the challenges of being a multitasking academic, she offered some succinct yet heartfelt advice, "Never quit. No matter what, never, ever quit." Her guidance continues to resound with me as I carry out my daily routine and work toward my goals.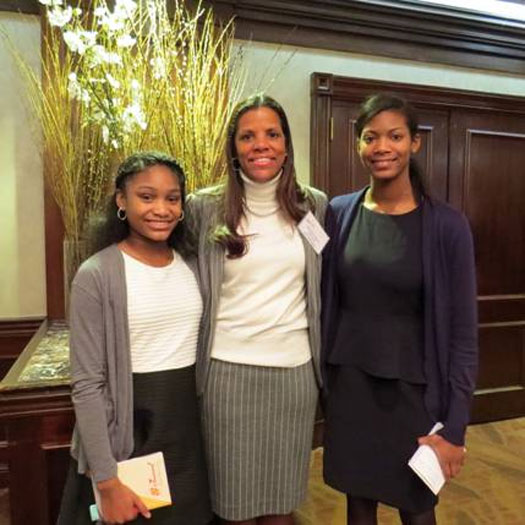 Dr. Michelle Penn-Marshall from Hampton University encourages NGY Cyberjournalists Taylore Livingston (left) & Tenderly Diaz (right) to discover their purpose in life and then boldly pursue it! And also to consider attending Hampton University!
Another highlight of the event took place when I spotted a young man who is known to me as Fonzworth Bentley, a popular Hip Hop artist, TV entertainer, entrepreneur and philanthropist. Bentley, whose real name is Derrick Watkins, was being inducted as a 2016 MIE Ambassador. He eagerly provided some powerful words of advice to the NGY Cyberjournalists. "College is the beginning of your professional network. My college education provided me with knowledge that many of my peers in the entertainment world did not possess."
When asked what message he would like to send to the youth, Watkins humbly stated, "To me, the measure of success is not how much money you make or how much fame or popularity you obtain, but how well you achieve your assignment here on earth." It was clear by his eagerness to engage with the NGY Cyberjournalists as well as his steadfast promotion of college education that Watkins' earthly assignment is to promote higher education among our youth.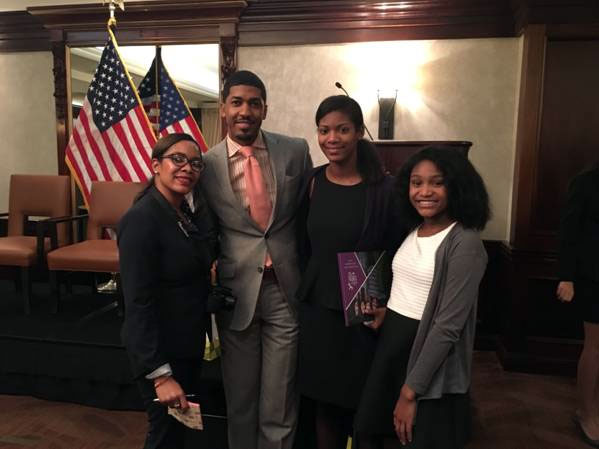 Hip Hop Artist Fonzworth Bentley, a ka Derrick Watkins, as newly inducted 2016 MIE Ambassador, conveys a passionate commitment to inspire youth to aspire to higher education when he is interviewed by NGY Parent Liaison Mrs. Mary McBride (left) and NGY Cyberjournalists (to his right) Tenderly Diaz and Taylore Livingston.
---
See article authored by Educator from Virginia's State STEM Magnet High School:
"Inspiring Diversity and Evolving an Innovation Nation at the 2016 Minorities in Energy III Annual Forum", by Mrs. Lisa Wu, Lab Director of Oceanography and Geophysical Sciences, Thomas Jefferson High School for Science and Technology
SEE article authored by the Global NetGeneration of Youth Team from Virginia STEM Magnet School, Thomas Jefferson High School for Science & Technology:
"The Present and Future Enriched by a Diverse Energy Workforce: Reflections of the 2016 Minorities in Energy III Annual Forum", by Ria Sonawane and Sarah Crossen, Global NetGeneration of Youth Cyberjournalists from Thomas Jefferson HS for Science & Technology, in Virginia
See two articles authored by the Global NetGeneration of Youth Team from HUD's STEM Innovation Network in Hampton:
1. "A STEM-fluential Celebration of the 2016 Minorities in Energy III Annual Forum: A Youth Perspective", by Global NetGeneration of Youth Cyberjournalist Tenderly Diaz
2. "A STEM-fluential Celebration of the 2016 Minorities in Energy III Annual Forum: Personal Confessions", by Global NetGeneration of Youth Cyberjournalist Taylore Livingston